Roof tile design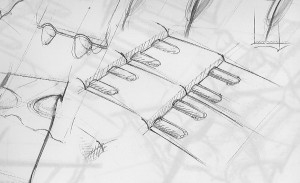 Sketches of a roofing tile design
Who invented it? The "Swiss"!
We act on the idea, the vision. Coupled with our know-how, and both your and our experiences, combined with a dryer process analysis. This procedure was established at Tegulas in 2002, and enables us to develop a process-oriented product for you. Specific material reductions form the basis of the most consistently possible drying and mould shrinkage process. The associated quality improvement and weight reduction are just two examples which reduce costs all the way to the roof. A process which does not just stagnate in our company, thereby allowing us to guarantee you the most economical solution for your new roof tile model.

"That's how the history of an over 4000 year old trade is perfected by the future".